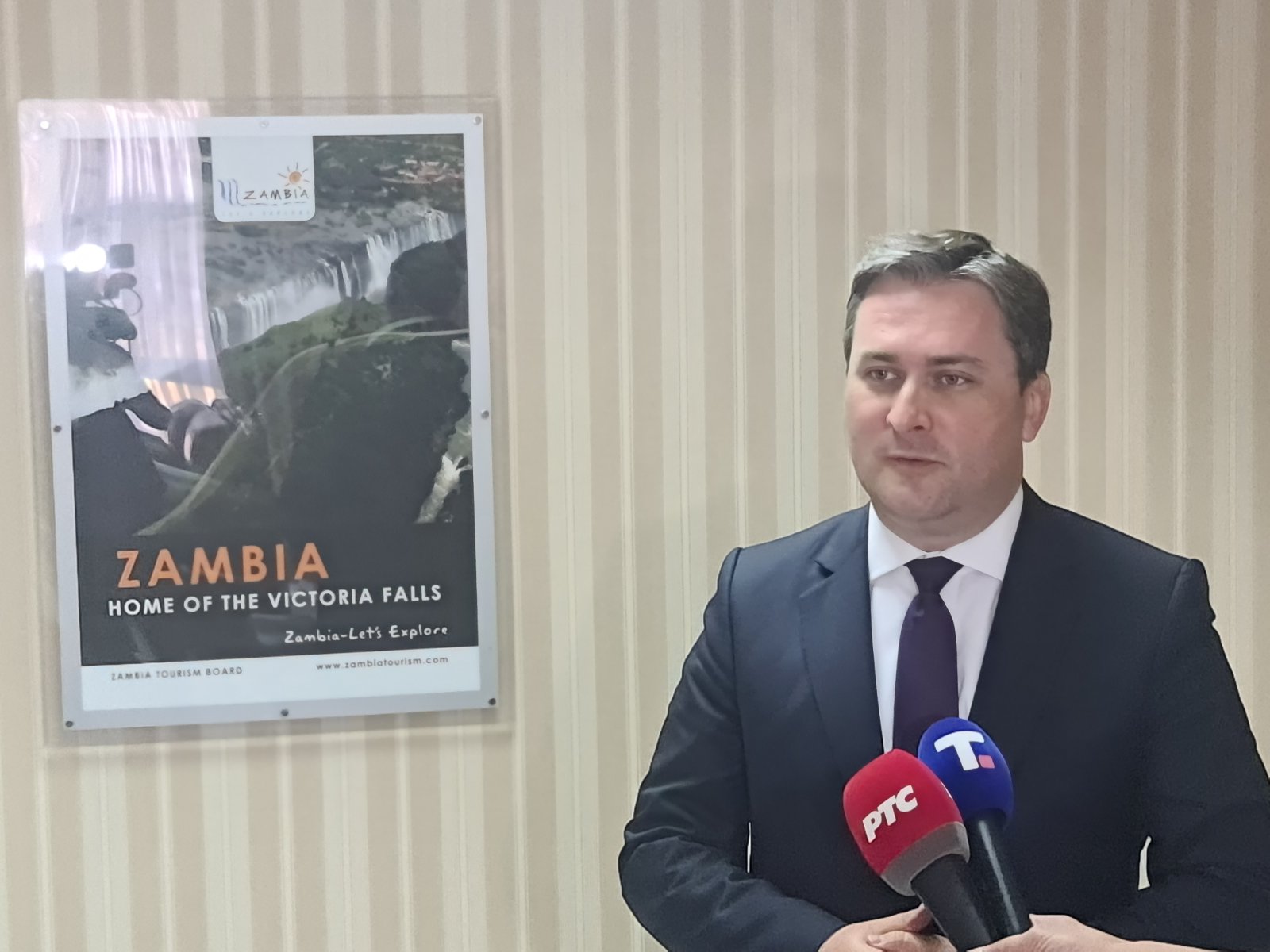 The Minister of Foreign Affairs, Nikola Selaković, stated that Zimbabwe and Zambia attach great importance to relations with Serbia and support it in defending its territorial integrity and sovereignty, and that they are also interested in deepening political and economic cooperation with our country.
Summarizing the results of the first day of his visit to South Africa, during which he handed out vaccines against the corona virus, as a donation from Serbia, Selaković said that Zimbabwe's support for our key national and state interests has lasted for 30 years.
The Minister said that the reception of the Serbian delegation in Zimbabwe was proof of that, and stated that the Minister of Foreign Affairs, the Minister of Local Government and Public Works, but also the Deputy Minister of Health of Zimbabwe, key representatives of the state for the implementation of the fight against COVID-19, were present at the airport.
The head of Serbian diplomacy pointed out that his colleague from Zimbabwe, Frederick Shava, expressed support for Serbia, which has not lasted for the previous five months or the previous five years, but for the last 30 years.
"Zimbabwe has had a very clear attitude towards the key national and state interests of Serbia and our Serbian people for the past 30 years, and it has not changed its position on that issue. Also, we had the opportunity to hear the most beautiful expressions of gratitude expressed in a wonderful and touching way, but also the expressed intention of Minister Shava and President Mnangagwa to reopen the Zimbabwean embassy in Belgrade after 15 years", Selaković said.
He reminded that 20 years have passed since the former FRY closed its embassy in Harare.
"We have an embassy in Harare and a house next to the embassy where an ambassador can stay, it can be his residence. So, we have all the conditions to re-establish our diplomatic mission in Harare, and we will do that. In response to my thinking, Minister Shava immediately said that, if we do that, they will return their embassy from Rome to Belgrade", Selaković said.
He mentioned that yesterday in Nairobi he talked with the State Secretary of the Kenyan Ministry of Foreign Affairs, Ababu Namwamba, for whom he says is also our great friend, about improving cooperation, and that the fact is that friendly countries from the African continent recognize what President Aleksandar Vučić and the Government of Serbia are doing, as well as the successes of Serbia, both domestically and internationally.
"Belgrade is becoming the center of the region again, not only because of its political stability, economic activity and because we attract the most foreign direct investments, not only because we have economic growth that will be among the top three countries in Europe, but also because our old traditional friends recognize that, value it and want to return to Belgrade again, to open their embassies in Belgrade", said Selaković.
He emphasized that the opening of their embassies in Serbia means a new chance for the development of political, but also economic cooperation of our country with the countries of the African continent.
The Minister said that the Serbian delegation had to come to the capital of Zambia, Lusaka, on a special flight, and that a little less than three decades ago there was a direct airline between Belgrade and Lusaka once or twice a week, because 5,000 of our people lived and worked in Zambia.
He stated that many key facilities in the center of Harare and Lusaka, such as congress centers, hotels, state institutions, were built by our companies.
"They also built roads, airports, dams, hydroelectric power plants. This was all done by former Serbian companies in the time of Yugoslavia. I intentionally say Serbian companies, because they were from the territory of Serbia, such as Energoprojekt and Partizanski put", said Selaković.
Minister Selaković emphasized that the re-establishment of direct political and diplomatic missions in our capital represents a direct line of communication, a chance for our country to strengthen our multilateral cooperation, our unity in international organizations, support for our territorial integrity and sovereignty, but on the other side, this is also a really good chance for our businessmen.
He conveyed that today in Zambia, at meetings with officials of that African country, they talked exactly about deepening cooperation when it comes to agriculture, pharmaceutical industry, the defense system, but also many other areas for which, as Minister Selaković says, our friends are interested, and eager to see Serbian companies in southern Africa again.
"My second presence in Africa in the last two months is something that has been noticed. It has been noticed that Serbia pays attention to the relationship with the countries of Africa, and believe it or not, this is something that each of my interlocutors drew my attention to yesterday and today, and they respect that very much", said Selaković.
He emphasized that this is important because we are not in a situation to just ask them for something and call them when we need help, but that this time we are the ones who help as much as we can.
20 August 2021